10" Grinder Buffer polisher Wheels Dual Speed 1720/3450 1HP 1"x6.5 " shaft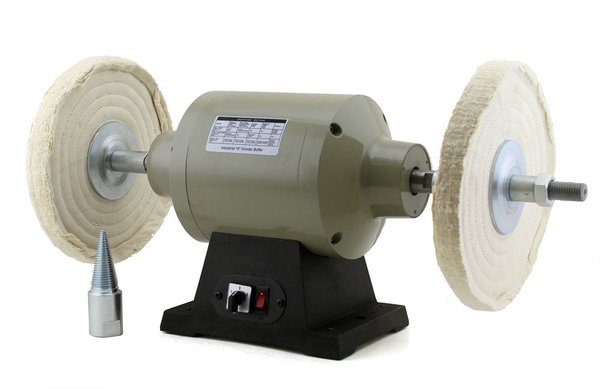 10" Grinder Buffer polisher Wheels Dual Speed 1720/3450 1HP 1"x6.5 " shaft
Features Revolutionary Industrial-style 1HP dual speed buff motor. High value motor offers the utility of dual speeds perfect for buffing metals and plastics. Each buffer must pass a rigorous 7-point performance test. Tight bearing tolerances produce quiet operation, low vibration.
Specifications Motor 1 HP 110 V 60 Hz 2 speeds: 3amps for 1720 rpm, 4.5 amps for 3450rpm
Extra-long 1 x 6 15/16" buffer shaft 3/4" diameter shaft fits buffs with 3/4" arbor holes Includes two 1" and two 2" spacers, four 3 3/4" flanges & retaining nuts.
Universal base is 9" x 6 1/2" Measures 26 1/4" wide overall
Comes with 2 buffer wheels