AIR SAND BLASTER INDUSTRIAL WITH 3 DOORS # 420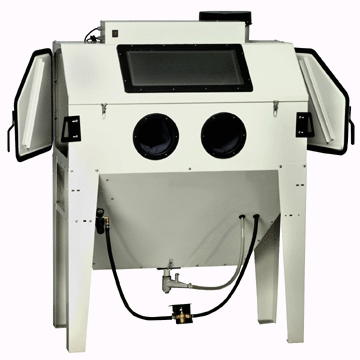 AIR SAND BLASTER INDUSTRIAL WITH 3 DOORS # 420
INDUSTRIAL SAND BLASTER WITH 3 DOORS
Features-Specifications:
Heavy duty natural rubber/vinyl blasting gloves
Perforated steel flooring, abrasive large particle, separating screen and clean-out door
Powder coated inside and out
Super heavy-duty foot control valve. Built with heavy steel housing and industrial brass flow valve
Air regulator/gauge panel
14-gauge steel legs (16-gauge panels)
Build on dust collection vacuum eliminating typical suction pick-up tubes and hoses, media metering
nets in an entirely different class from the competition
External fluorescent lighting system. It last longer and easy to maintain
Tempered Glass top view window. Doors build on both side makes working part very easy in and out
Huge working area 48″ x 25″ x 24″ It requests air compressor with 40-100psi at 25CFM
Shipping Information:
Case Content 1
Count PC
Length 52″
Width 51.25″
Height 30.5″
Model # XH-SBC420
Unit Weight (LB) 331 lbs.
Wooden Crate (CUFT) 47.038