Hammer Demolition Clay Spade Scoop 1-/18" Hex Shank, 5-1/4" W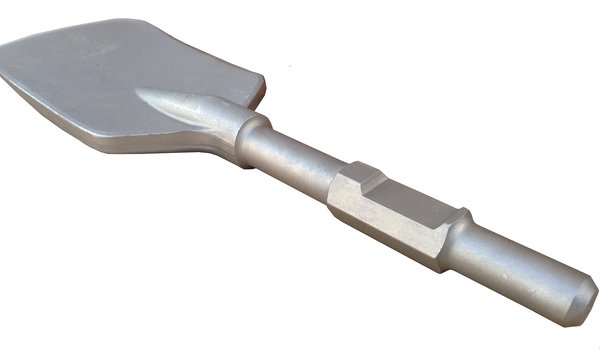 Hammer Demolition Clay Spade Scoop 1-/18" Hex Shank, 5-1/4" W
Demolition Hammer Clay Spade Bit
For digging Scooping clay, hard packed gravel and dirt.
Fit most Brand Name Demolition Jack Hammer that has 1-1/8"(30mm) hex Fitting. Makita, Hitachi, Bosch, etc...
overall dimensions: 5-1/4"W x 17-1/2"L
Shovel dimensions: 5-1/4" W x 8-1/4"
Weight 9 LBS

Compatible with Michigan, Hitachi, Makita, Baum Ag Electric Hammers, Ozite, TWM, Millers Falls 30mm Hex Head Jack Hammers
Content: 1x Wide mouth Jack Hammer clay spade Chisel
Turns your jack hammer into a powered trench digger. A must for digging foundations, stump holes and tree planting.
The spade is over 135mm wide at the base to get provide maximum clay / soil removal and efficiency in your trench or hole.
The 135mm wide spade head is made from thick, solid steel and is ready to go straight out of its package.
No more having to use a back breaking crow bar to square out those trenches and stump holes.
The wide mouth long series clay spade is the tools for the job and will do the work in 1/10th the time.