650 LBS UTILITY CARGO TRUCK LUMBER RACK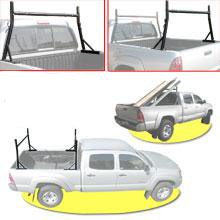 650 LBS UTILITY CARGO TRUCK LUMBER RACK
This is a heavy duty durable steel construction rack.
It is great for hauling ladders, lumbers, pipes, and other long & big items!!



Easy to Install
Fits All Pickup Trucks
500 Lbs. RATED Capacity
650 lb. stationary
Max Height: approx. 32" Plus the height of your truck's bed
Width: Adjustable for most pickup trucks (Adjustable width of 5' minimum to 6' maximum where rack attaches to track bed)
This auction is for set of 2 bars (front & rear).