750 watts adjustable drywall sander tool dry wall with carrying case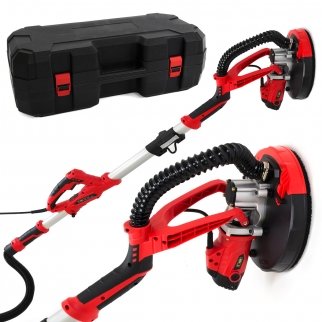 750 watts adjustable drywall sander tool dry wall with carrying case
Variable Speed Control: 6 Speed
Durable use and Balance: Moto assembled on sander head
Soft grip, comfortable for work
With big support handle, extend bar, telescopic
Sanding pad: moving much steadier,
Voltage: 110V
Frequency: 60Hz
Input Power: 750W
No Load Speed: 1: 1000-1700 (Min)
Diameter of sanding paper: 8.8"
Diameter of pad:8.2"
Length: 43"-71"
Adjustable Sanding head: degree 0-120
vacuum hose included
This Drywall sander is designed for sanding walls and ceilings. It provides a superior finish. and is faster than conventional finishing methods for both new construction and renovation work. Whether you're doing some work around the house or at a job, this item will allow technology to assist you. Durable aluminum frame, light-weight, with a head that swivels making it easy to reach almost any corner and angle.