GARAGE AUTO SHELTER CANOPY STORAGE TENT SHED GREY COVER 13' X 20' X 12'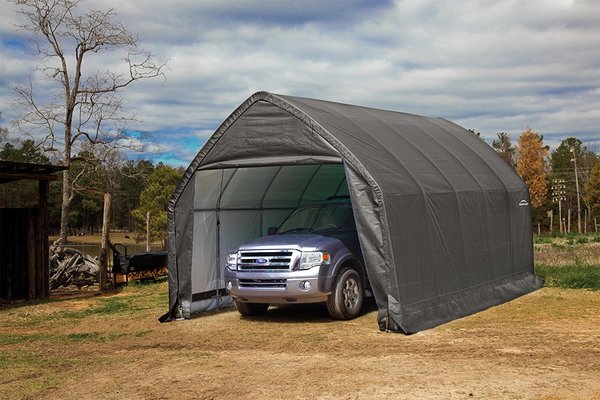 GARAGE AUTO SHELTER CANOPY STORAGE TENT SHED GREY COVER 13' X 20' X 12'
Introducing our largest Garage-in-a-Box yet. 40% of vehicles on the road today are SUV's or full-size trucks. We built this garage just for them, 13 ft. x 20 ft. x 12 ft. high with a full 8 ft. /2.4 m of door clearance. Bolt-together brackets allow easy access to pressure point for optimal performance.
● Advanced engineered fabric-our covers are triple layer woven polyethylene that is rip stop touch and UV treated inside and out
● Reinforced door rafter design bigger, stronger alpine frame with reinforced roof structure adds more volume and overall strength
● Easy slide cross rail best in class feature for continuous cover tightening
● Ratchet tite cover tensioning ensures a drum tight covers and door panel connection to shelter frame
● Patented alpine design frame-bolt-together hardware at every frame connection makes this gib easier to assemble and ultra-sturdy
● Quality ratchet and web strap components keep cover tight and neat looking
Specification
● Style: Gothic Arch
● Material: Polyethylene 7.5
● Frame Color: Grey
● Color: Gray
● Door Type: 1 Double zippered doors, 1 rear end panel
● Size: 13 x 20 x 12 ft.
● Rib Tubing Diameter (in.): 1.65
● Total Storage Area (sq. ft.): 257.77
● Total Storage Volume (cu. ft.): 2332
● Assembly Required: Yes
● Assembled Exterior Dimensions Width (in.): 155
● Assembled Exterior Dimensions Depth (in.): 239.4
● Assembled Exterior Dimensions Height (in.): 140.2
● Assembled Interior Dimensions Width (in.): 151.7
● Assembled Interior Dimensions Depth (in.): 236.1
● Assembled Interior Dimensions Height (in.): 138.57
● Door Opening Width Top (in.): 107.7
● Door / Entrance Width Bottom (in.): 124.3
● Door / Entrance Height Outside (in.): 95.64
● Wall Height (ft.): 72.7
● Warranty: 1 year
● Waterproof: Yes
● Water-Resistant: Yes