Shrinker Stretcher Sheet Metal Fabrication 18 Mild Steel & 16 Aluminum Gauge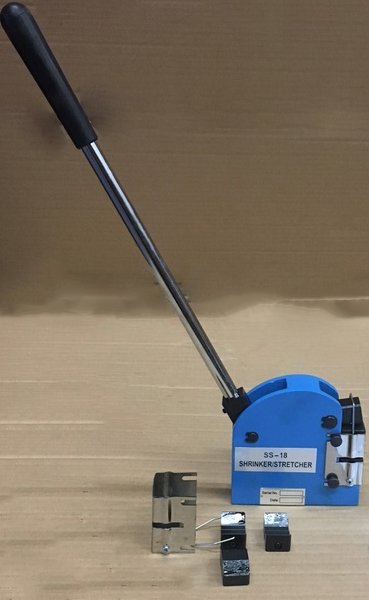 Shrinker Stretcher Sheet Metal Fabrication 18 Mild Steel & 16 Aluminum Gauge
This machine is composed of the body part and jaws part.
The body is high quality steel casting, with a high structural strength and good stability; the jaws are hardened treated chromium steel with very high hardness and toughness, the jaws including Shrinker and stretcher, the Shrinker forms outside radius curves and the stretcher forms inside radius curves. Compound curves can be made by working the piece on alternating sides, when both Shrinker and stretcher, taking care to match work on both sides,
This is great machine for auto body trim work, and any angle
General specification:
Max. Thickness …. 1.2mm
Will shrink/stretch up to sizes 18 (1.2mm) gauge mild steel & 16 (1.5mm) gauge aluminum.
Jaw clearance: 1/8"
Throat depth: 1"
Hardened Jaws ensure machines long life and operation.
Handle length: 17'' long
Unit weight: 12 lbs
Unit overall dimension (w/o handle): 1-3/4''L x 5-1/2''W x 5-1/2''H
Packing size 46cm x 13cm x 20cm